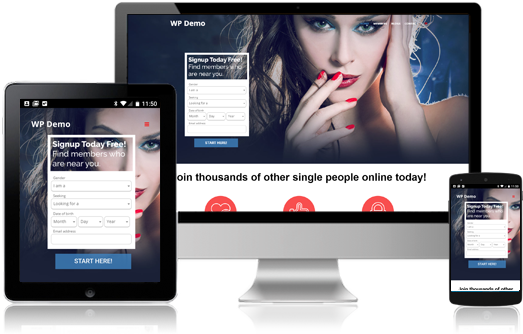 WordPress Dating Plugin 5.0 Features.
More features than any other WordPress Dating Plugin including responsive design. It also includes free installation, free support and best of all, free upgrades!
User Ecards
Let your users send eCards to other members right from the bottom of the compose email section.
Winks
No dating site is complete without the ability for members to send Flirts/Winks to other members. Great icebreaker tool.
Photo Greetings
Now your members can upload any type of media to a email that they send other users right from the bottom of the email.
Report Profile
Members can now report other members to the admin. Once reported an admin can review the profile.
Dynamic Header
Now when your users scroll down the page the menu navigation bar will stay at the top.
Stripe Gateway
Stripe has been integrated into the dating software. Now there are 15 different gateways.
Hot List
Users can now add profiles to their hot list and come back to those profiles later and email them. Add straight from a users profile view.
Saved Searches
Users can now save a search and come back later to use that same search. Great for users that like to save an advanced search without clicking all the options.
Rate Profile
Users can rate any profile from the profile view. This rating shows up on the members profile. Toggle this on/off if you don't want to use it.
Skype
Users can add their Skype username to their profile view to allow for other members to call them directly on their Skype account.
Comments
Users can post comments to other profiles. These profiles, once approved, will show up on the users profile at the bottom and the side.
Profile Access
Users can set who can contact them from their Profile Access area. Settings include allowing certain genders and or certain countries.
Fully Responsive
No matter what device your members use, your dating site will adapt to the screen they are using. Whether it's a iPhone, Android or any other mobile device.
Match Alerts
Members can set their match settings where they can narrow down the profiles that they want to make a match with.
Email Alerts
Get email notifications for different aspects of the dating site. Your members can pick and choose what they get email alerts for.
Instant Messenger
Members can chat one on one with each other via the Instant Messenger feature built into the WordPress Dating Plugin.
Private Chat
Your members can enter into a private chat straight from the profile view. Don't want to use the Private Chat then you can simply turn it off.
Custom Profiles
Members can customize their profiles to fit their needs. From changing the background color to different type sets for their profile view.
Thousands of Themes
Because it's WordPress, you have access to thousands of different themes.
Photo Galleries
Members can create galleries and add photos, video and music to them. Members can create as many as they like.
Video Uploads
Members can upload video files to their profiles. They can upload mp4, avi, mov and other video media formats.
Music Uploads
Members can upload music files to their profiles. They can upload mp3 music files to their profiles.
Enhanced Emails
Members will never miss an email with the enhanced email system. Charge members to view it or keep it free.
Friends
Members can add other members to their profiles as friends. Once a friend accepts the request then it shows up on their profile.
Who's Online
Members can see who is online and view that in 4 different views and they can be filtered by multiple filters.
Advanced Search
The advanced search gives your members the search area they need to find exactly the match they're looking for.
Custom Views
For Who's Online and Search Results, get 4 different looks from basic, thumb, gallery and detailed views.
Custom Accounts
As an admin you can customize the account settings area for your members.
Privacy Settings
Members can select who can contact them and their profile. Great for those members that want to block other members.
Empty tab. Edit page to add content here.
Free Upgrades
Each package includes free upgrades. Whenever a new version comes out you get it free. There is no time limit on upgrades. Whether you purchase the package last week or 3 years ago, you will always get free upgrades.
Free Support
With each package there comes free support. Got a problem then let us know and we'll resolve it. Our 24/7 support staff can answer any support issue that you have and correct any issue that you have.
Dating Ad Network
What other dating software providers don't provide is a ad network specially designed for the dating community. Each package includes $25 dollars in free advertising credit in our dating ad network. Increase your traffic with our award winning dating ad network.
Free Installation
Each package includes free installation. Simply provide us with your hosting details and we can have your new dating site setup in about 10 minutes.